Joined

Jul 26, 2011
Messages

267
Location
Tagline

You never have too much tapedecks ^^
A long story of a deck that got me into cassette decks repair.
Back in 2009, I was a beginner in cassettes, my father in law gave me his cassette deck he doesn't uses anymore.
A nice Pioneer CT-50R bought after his military service in 1983, liked this cool design first and the autoreverse function.
But it's not working and that given me headaches for a long time !
The idler tire was badly slipping, tried a lot of tricks such as sanding, putting more pressure in the spring, using O'ring... but none of them worked so I left the deck in a box for a while.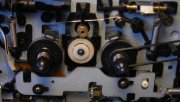 Sometimes I put it out the box and tried again to brought it back to life with no success, even thought a moment the head had an open coil.
Broke several other parts due to multiple disassembly, capstan motor, head wires, power supply transistor...
The absence of mechanism exploded view in the service manual didn't helped through.
In 2014 I've got more experience in cassette deck repairing, that even was a little business for some years.
So I've decided to brought it back to life and this time that was a success !
The capstan motor is dead, tried to rebuild it but the collector and brushes were too much worn.
Some plastic posts were broken, missing washers and screws.
Some head wires were broken.
The autoreverse switch made erratic contact due to oxidation.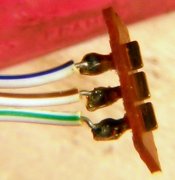 Replaced the capstan motor by a new Mabuchi EG530.
Glued the broken plastic posts, found some screws & washers in dead cheap decks.
Fixed the head wires.
Replaced the burnt play lamps by green leds and 150 Ohms resistors.
Mechanism cleaned, lubricated, new belts and new idler tire fitted.
Almost working, forward play & recording is good but the autoreverse is erratic, that was due to the oxidation in the autoreverse switch.
So disassembly again, opening and desoxiding the switch, now works great !

During all these years I've tried to get other CT-50R to see if I can fix it in five hours instead of five years

Found the #2 in France with some original catalogue pages (featuring the bigger brothers CT-70R & CT-90R).
#3 came from UK, it was very poorly packed, the front panel board got pushed inside but luckily nothing broken.
#4 came from Germany, in pretty good condition, just needed new belts & tire and some cleaning.
#5 came also from Germany it was cheap due to missing rec level knob.
I've disassembled it to have parts in better shape for the #1.
Also found a CT-1150R in UK, same deck inside but with some minor cosmetic differences, restoration pending as I have other decks to fix before.