Joined

Mar 22, 2021
Messages

48
Well, there you have it lol.
I have two PL400s running a pair of Infinity RS-2.5 speakers. I have them biamped vertically. I was playing some good ol rock music today at fairly decent levels when the right amp's DC relay tripped .
I have both of these amps recapped (including the bulk caps) all new mj21196G except for one RCA410 per channel. The control boards have all original silicon and resistors. I also have Don"s DC relay boards installed
I went about troubleshooting, passed the DBT, idle current seemed normal if not a little lower than usual. I brought it up on the variac but the DC relay wouldnt energize. I measured the wire connectors on the board and found that the DC offset was still in spec 37mV, 25mV, but the pin J3-1 (DC power in) was at 0 volts instead of 70-80vdc. So I followed that down and found that this diode was open. It's showing as a resistor.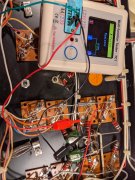 Digging a little deeper, I pulled all the output transistors on that channel and found two shorted with the same tester pictured above. That's just where I left off for the night, there very well could be more.
I don't think the amp latched up because of the normal seeming DC offset. I'm still trying to figure out the chain of events that led up to this failure
I know these are tough speakers to drive, but I've been monitoring the heatsink temps pretty closely for weeks, and they didn't get any warmer than the transformers at the levels I was playing. I was just "throttling" them for the time being since I didn't have fans on them.
However, the amp that busted I had just installed a pair of muffin fans between the heatsink fins for extra precaution. Could that have something to do with it? If the bias transistor was tracking cooler than the outputs or something... The fans are blowing right on the outputs. I have two 120v fans wired in series to slow them down quite a bit.
The second the relay tripped I jumped up and cut the power to the amp. I felt the right output heatsink and it was warmer than usual, and I had just powered up the amps a couple mins earlier. Heatsink was much too warm for that.
I'm still a bit of a newb. I know I could wopl it and get much better reliability, but I think that's still a little over my head. I feel like if I could learn a little about what caused a failure like this, that would help me understand a little more how everything works.
Thanks!
Keith
Last edited: