Joined

Aug 6, 2019
Messages

34
Some may remember a thread I posted a little while back trying to figure out what amplifier I had exactly. It belongs to a buddy and he wanted me to White Oak it, but we found through the help of this forum that it's one of the earliest 700s (only 16 outputs) that was put out and from the Seattle location as well. So I'm just going to rebuild it so that it can be used and he is going to find a different 700 to White Oak.
First off, from my understanding there were only a handful of these 700s that left in this configuration, any chance of finding a schematic or service info?
Ive replaced all of the electrolytics except the main filters, waiting on White Oak to get some in stock. Is there anything else on the main board that should be replaced? Any transistors that should be swapped out? I see that each channel has and RCA 40327 and MM4003 metal can transistors. Should I just leave them be or swap them out? I have plenty of the 2N3440 and 2N5416. I see the suggested replacement is the 2N5415, but the 5416 should work fine correct? I was also thinking of changing out the 6 trimmers, 2 for input offset, 2 for output offset, and the other 2 I assume are bias. Any tips on adjusting these would be awesome. I'd think output offset would be the standard practice of measuring at the output and adjusting for zero
I also see each channel as a pair of RCA 40396P germanium transistors. Germaniums can be tricky when looking for equivalents.
Now for the outputs. Most of the outputs are shorted, it's an odd arrangement of parts. My plan was to throw 16 new MJ21194G or MJ21196G in there since all 16 now are currently NPN devices.
Well then Grapplesaw said this to me in a PM:
So Dan you only need 12 96g's for that amp if you leave it quasi complementary. Re use rage race 410's in the first row or use 4 mj21195's there.
Maybe that's why it has shorted outputs? There need to be 4 PNP devices. Where do these four devices go exactly? It's currently filled with 2SD555s and devices with absolutely no markings whatsoever. Measuring the ones that are not shorted has shown there is not a single row or column that has a PNP device. Anyone point out what I should put where as far as the outputs are concerned?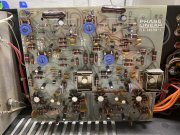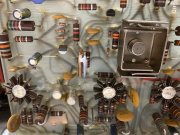 Thank you,
Dan