Administrator, (and straight-up pimp stick!)
Staff member
Joined

Jun 12, 2010
Messages

9,035
Really... a day dedicated to... as Paul McGowan of PS Audio explains:
October 2, 2021
by Paul McGowan
Every single day of the year there are multiple celebrations of every imaginable topic. In fact, this month there are more celebrations than there are days in the year.
And, among those, and special to all of us reading this post, is the 6th annual, Audiophile Day.
It's a day to remember why we're here. For some it's the gear, for others the music, still others the camaraderie.
We are unique. A wonderful mix of good-hearted people from around the world. People in love with music and its faithful reproduction in the home.
To all of us, a happy Audiophile Day!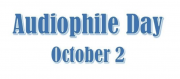 Nando.