Veteran and General Yakker
Joined

Jul 6, 2010
Messages

16,700
Tagline

Broken beyond repair but highly affable
The original festival was legendary, the 30th anniversary (Woodstock '99) infamous and Woodstock 50 can't even seem to get going.
Our 'hippie' parents/grandparents came in such numbers that the festival was declared free when it became apparent that nothing could stop the gatecrashers and a couple hundred thousand plus showed up, crippling a small town and it's roads for a few days, then the rains...as the legend has it one died and one was born to carry on. Even
nuns
came, as was shown in the movie of the concert.
'Don't eat the brown acid' became perhaps the most iconic statement of the entire show.
The superstars of music showed up (well, not Yes or the Beatles) but CCR was there, Jefferson Airplane, The Who, Crosby Still and Nash and because of transportation problems a previously little-known artist named
Ritchie Havens
became a legend while holding down the fort so to speak for the first two hours or so. Sha-Na-Na was there, long before they had a TV show. A virtual universe of talent including the famous Star Spangled Banner of Jimi Hendrix (who would not be long for this world a scant year later).
Woodstock '99 was the festival from Hell. This time around it wasn't rain and mud, it was heat and disgust that the concessions (water especially) were too expensive and hard to come by and the new generation had different views about 'sexual liberties' (not consensual) and by the time the Red Hot Chili Peppers appeared on stage wearing only socks on their genitals the riot was ON.
(Note from me: Woodstock '99 was livestreamed and I tried to view it, signed up for the account but my computer didn't do very well until after the riots when everything was archived. I was disappointed about failing to connect but aghast watching the aftermath)
So the curse of '99 seems to have hit Woodstock 50 hard, so hard that they couldn't even hold it in the original location and when they announced a new location many of the more prominent performers simply pulled out.
Is Woodstock 50 doomed, and is Woodstock finally relegated to history? It doesn't look good right now. It's getting a bit late in the year to pull it off.
I myself am of the opinion that YES, Woodstock should be allowed to fade into history and remain the fable and dream of a generation of Peace, Love and Music.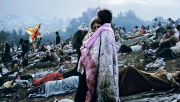 ​