Veteran and General Yakker
Joined

May 14, 2014
Messages

2,082
Location
Tagline

No such things as bad days, just bad moments
This is in addition to my thread on "creating" a resistor for the Akai AA1010 I was reluctant to admit having. I got hold of the proper resistors so that's done.
I now know that the NPN of a pair of driver transitors is shot. My intention is replacing the NPN and it's companion PNP. I would do this on both channels. Sorting through what I have on hand, I've got exactly two pair of transistors that
I think
will work.
Original NPN - 2SD571 replace with NPN- KSA1220
Original PNP - 2SB605 replace with PNP - KSC2690
One of the two 2SD313 outputs in the channel in question is also blown and I intend on replacing all four of them with MJE15032G.
If any care to review, here are the specs for both original driver transistors and tentative substitutes
Original NPN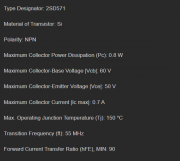 Replacement NPN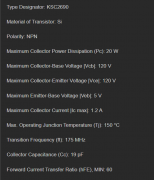 Original PNP
Replacement PNP