Joined

Nov 6, 2020
Messages

5
Joined since I have a 700b to restore. I purchased it second hand way back last century and used it running subs in some PA systems, in a rack sleeve with fans and an external DC protector. It ended up with fatigue cracks in the case that were repaired by inserting aluminium angle behind the faceplate.
Put it in storage when I got some higher powered and lighter amps.
The look of the silver face and big meters had me thinking of restoration one day.
Then while browsing on the bay I came across White Oak replacement chassis and I ordered one which has now arrived.
It's certainly an excellent piece of engineering.
I also got the Watts Abundant internal DC protection board.
I plan on installing the DCP first so I can use the amp while I accumulate bits and pieces to go the whole hog (even though in my situation that could take some time).
My thinking is new control board, then new upgraded power supply caps. Then backplane and meter lights.
Possibly also a nice clean new faceplate.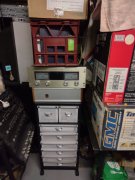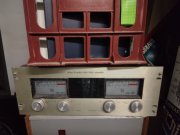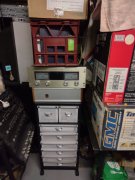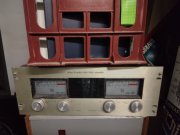 Amp in storage unit