HI all,
after reading AngrySailor's thread about his restoration I finally made up my mind to restore my Pris
I bought it used about 25 years ago and I have left it unused since 2005. A mark in the center of the back leg writes "23 May 1977".
I would revamp its look and put it again to operations in my stereo chain aside my current turntable.
Here it is at the beginning of the work.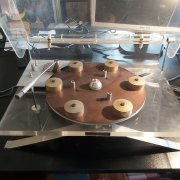 Here follows the my plan:
1) Turntable legs.
Chrome plating ruined.
This turntable has been stored in a cardboard box for a long time. A flood (few centimeters of water) has happened but none noticed this for some months.
So, now the legs have partly lost their chrome plating and many small black points appeared on them. I think this is due to rust.
After having brought them to a blacksmith they are planned to be brought back to their original shine.
This is pretty simple, indeed.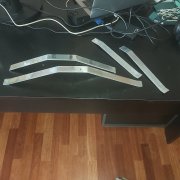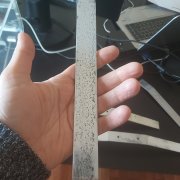 2) 5 Golden-like weights on the platter.
They have lost their original gilding and now are opaque.
Apart from the age of the turntable, this may be due to a wrong action done many years ago, trying to polish them with a wrong and aggressive chemical product.
Here I need your help, please: do somebody knows how to recover them ? A galvanic treatment would do the job??
Could I do something by myself using some special product pr solution or whatever else I could use to make them return to their original shine before going to a blacksmith / company who makes galvanic treatment to restore their gold finish ?
Which is their material?
Below the current situation.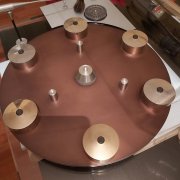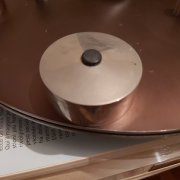 3) Cover
There are some marks and lids on it, especially on the center part. See below.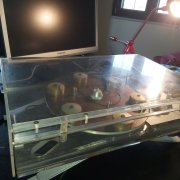 How to remove them safely ?
4) Motor
The turntable motor looks in good conditions and the belt is still in quite good working condition. So I checked it now for rotation stability: even for long term rotation it seems to work pretty well (few adjustment every half an hour) both at 45 and 33 rpm.
Anyway, I remember there were some sudden blips (rotation slowing down) when it was in operations. Since now the TT is w/out arm I can't re-check this now, and will check this later.
Maybe the bearings need to be oiled. When working I can hear a periodic little "tlac tlac" inside the motor which is maybe due to oil drying after so many years.
How to oil the bearing ? Which are the screw to unscrew and how to open the two shell of the inside part? Where to drop the oil drops ?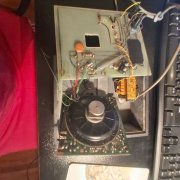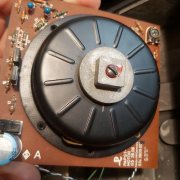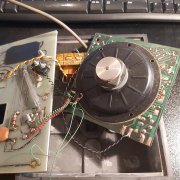 Any help is very well welcomed !
Thanks
Luca